The Evolution of Gray Line Tours and Bus Rentals
The origin of Gray Line traces back to a straightforward dream that persists even after a century and over 700 establishments.
In the spring of 1910, an ambitious young businessman named Louis Bush transformed an old Mack Truck frame, adorned it with shades of blue and gray, and embarked on providing scenic bus tours around Washington, D.C. Little did he realize that this humble venture would pave the way for what is now globally recognized as Gray Line.
By the mid-1920s, Gray Line's footprint had broadened, reaching bustling cities like New York, Chicago, and Detroit, and extending even to international destinations like Toronto and Havana. After the calm that followed World War II, an ex-Gray Line associate, Harry J. Dooley, took over the reins. He revived Gray Line Chicago and eventually ascended to its presidency. Today, Dooley is hailed as a pioneer in the sightseeing domain.
The late 1940s and early 1950s, marked by the rise of jet travel, saw Dooley steering Gray Line into new territories across the U.S. and introducing it to regions like Canada, Mexico, Hawaii, and Puerto Rico. This era of rapid expansion and the growing allure of motorcoach tours solidified Gray Line's stature as a forerunner in the sightseeing realm.
In 2011, Gray Line celebrated a significant landmark – its 101st year in the travel sphere. Now, after a rich legacy of over a century, our commitment to showcasing the world, one journey at a time, remains unwavering. Some legacies, indeed, are refined with time.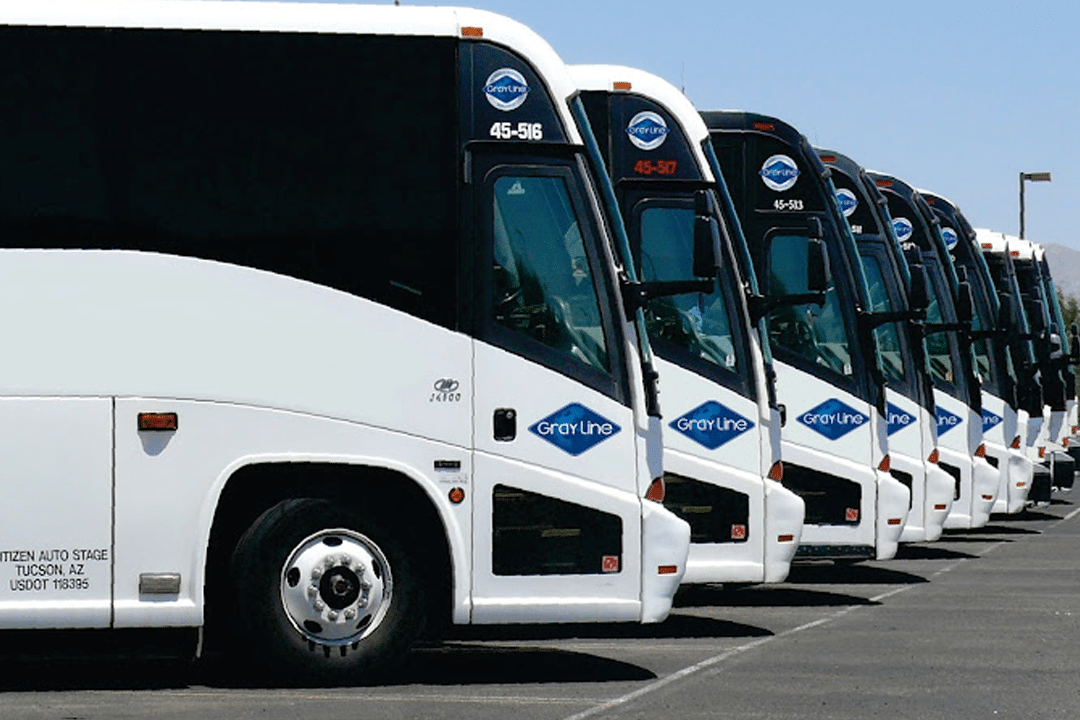 Gray Line Arizona Today: Charter Bus Rentals in Phoenix & Tucson
Today, Gray Line Arizona Tours and Bus Rentals has its headquarters in both Phoenix and Tucson, Arizona. Our reputation has been built on providing exceptional bus rentals for large events and special occasions throughout the southwestern United States.
Gray Line Arizona has been established for 107 years! We work closely with local school districts, corporate event planners, and more for a wide variety of charter bus rental needs across the state of Arizona. Our century-long legacy in Arizona sets us apart from the competition. When it comes to bus rentals and tours, we know what we're doing.
We take pride in our state-of-the-art fleet of charter bus rentals, which includes full-size 56-passenger coaches capable of transporting up to 5,000 passengers in a single journey!
Our modern charter bus rentals are renowned as the trusted transportation choice for corporate events, youth groups, event shuttles, church transportation, and much more. With over a century of experience in the charter bus industry, we excel at ensuring your group trip is both comfortable and enjoyable. Let's start planning your bus rentals with Gray Line Arizona today! Call us anytime (520) 231-2991
We will be booking guided scenic tours again soon! Email us if you're interested in our tour packages.
Distinctive Clients