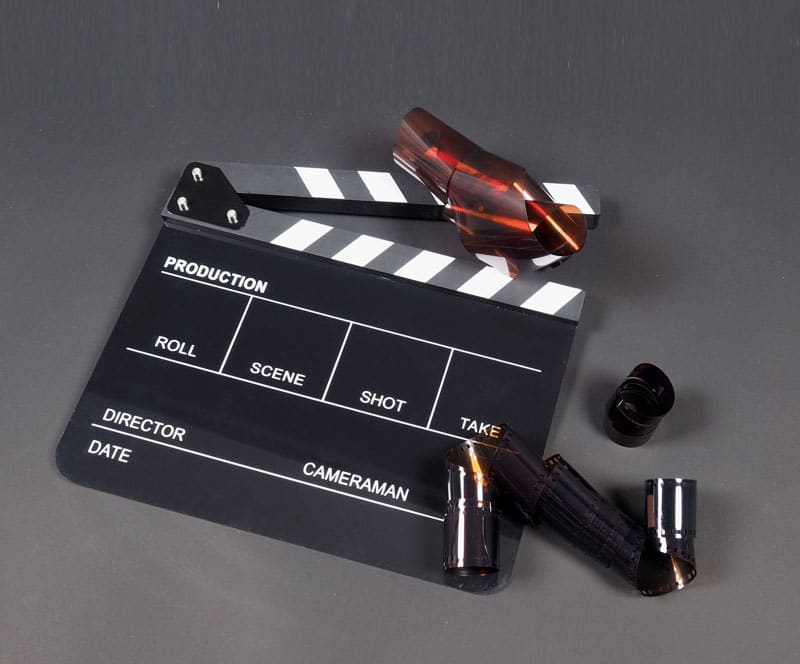 Reserve Your Bus Rental Today!
Gray Line: The Entertainment Industry's Choice for Charter Bus Rentals In Arizona
Every mesmerizing cinematic masterpiece that captures hearts and minds is crafted behind the scenes through an intricate ballet of timing, coordination, and precision. Phoenix and Tucson, with their breathtaking landscapes, have long served as sought-after film locations. However, these vast expanses also present unique logistical challenges for movie production crews. Enter Gray Line Arizona: the steadfast transportation solution for crew transportation with modern Charter Bus Rentals in Phoenix and Tucson!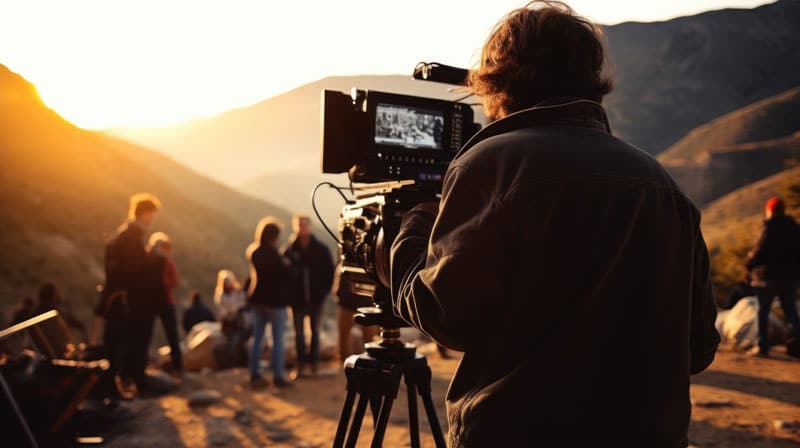 Reliable Transportation in Filmmaking: Gray Line Charter Bus Rentals
A movie set is a flurry of activities. Amidst tight schedules, every second counts. Moving between locations, sometimes multiple times in a single day, can be a daunting challenge. Efficient transportation for the crew on charter bus rentals isn't just a convenience; it's the backbone of a well-oiled production machine. It ensures:
Flawless Sequences: Imagine capturing Arizona's desert bloom post-rain or the ethereal golden hour. These fleeting moments don't pause. A reliable charter bus ensures you're right there, camera-ready.
Convenience: Charter buses offer immense convenience by handling the logistical aspects of transportation. Crew members can relax and focus on their roles instead of navigating through traffic or finding parking spaces.
Comfort: After a long day on set, a comfortable ride back is nice. Gray Line charter buses offer spacious seating and amenities, ensuring the crew can rest and recharge for the next day of shooting.
Cost-Efficiency: Renting charter buses is a cost-effective solution for transporting large groups, helping production houses manage budgets more effectively.
Ensured Timeliness: Our Charter bus rentals ensure that the entire crew arrives simultaneously, maintaining the schedule and efficiency of the production.
The Versatility of Charter Bus Rentals: Besides transporting crews, charter buses serve various roles in the film industry. They can double as mobile production offices, offering a dedicated space for coordination and planning on the go. This versatility makes our charter bus rentals an invaluable asset in film production logistics.
The Crew's Need for Bus Rentals with Punctual & Comfortable Transit
Film crews often contend with Herculean tasks. Their day doesn't end with "cut". For them:
Beyond the 9 to 5: Filmmaking isn't strictly regimented. It could mean chasing a sunset or waiting for the perfect cloud cover. They need a transport ally who's with them, around the clock.
Elemental Battles: Filming in Arizona's contrasting climates demands resilience. Post-shoot, crews need a haven of comfort to rejuvenate. Gray Line's charter bus rentals offer plush interiors that offer just that.
Downtime Productivity: Transits aren't just physical movements. They're opportunities for script revisions, scene discussions, or even impromptu rehearsals. A conducive environment can amplify this productivity.
Large New Fleet Of Vehicles For Your Next Event
Stress-free Approach to Movie & TV Production Group Transportation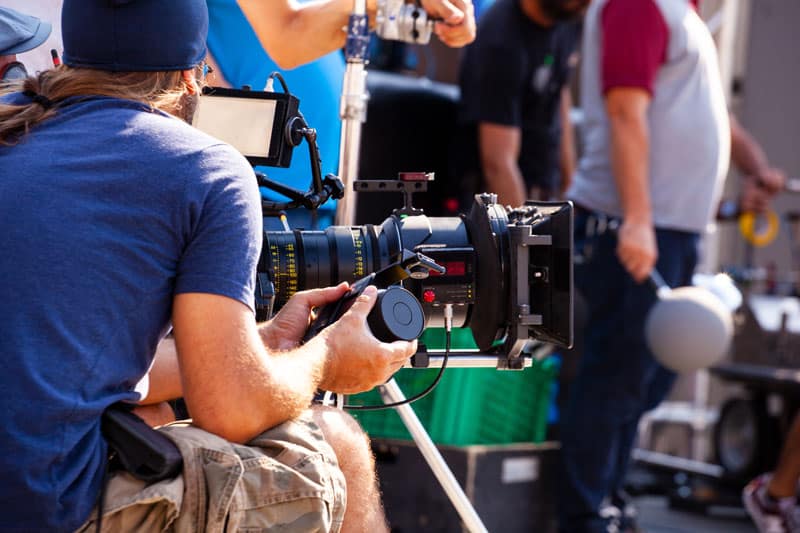 Safeguarding Equipment for TV and Movie Production in Arizona
The spectrum of film equipment ranges from intricate, delicate gadgets to bulky, heavy machinery. Each item, irrespective of its size or function, is critical and expensive. Proper handling during transit becomes paramount:
Specialized Storage: Film equipment needs specific storage conditions. Gray Line's charter buses ensure safe, cushioned, and climate-controlled storage.
Quick Access: Time lost in unpacking and setting up is a luxury film crews can't afford. Our bus rentals are designed for efficient loading and unloading.
Safe Transit: Arizona's terrain, while visually stunning, can be challenging. Our bus rentals ensure equipment reaches its destination undamaged.
Why Gray Line Arizona Bus Rentals is Perfect for Your TV and Movie Crews
With a legacy spanning 100+ years, Gray Line Arizona stands tall as the film industry's trusted choice for bus rentals:
Rooted in Experience: Serving Phoenix and Tucson for over a century, we understand the unique challenges and needs of the region.
State-of-the-Art Fleet: Our buses blend the charm of reliability with modern amenities tailored for today's film industry.
Expert Navigators: Our expert bus drivers have immense knowledge of the roads and terrain and will save you valuable time. And occasionally, they've even suggested hidden gems for shoots in Arizona!
Flexible Services: In the world of films, change is the only constant. Our bus rental services are flexible, adapting to reschedules, last-minute changes, and unforeseen demands.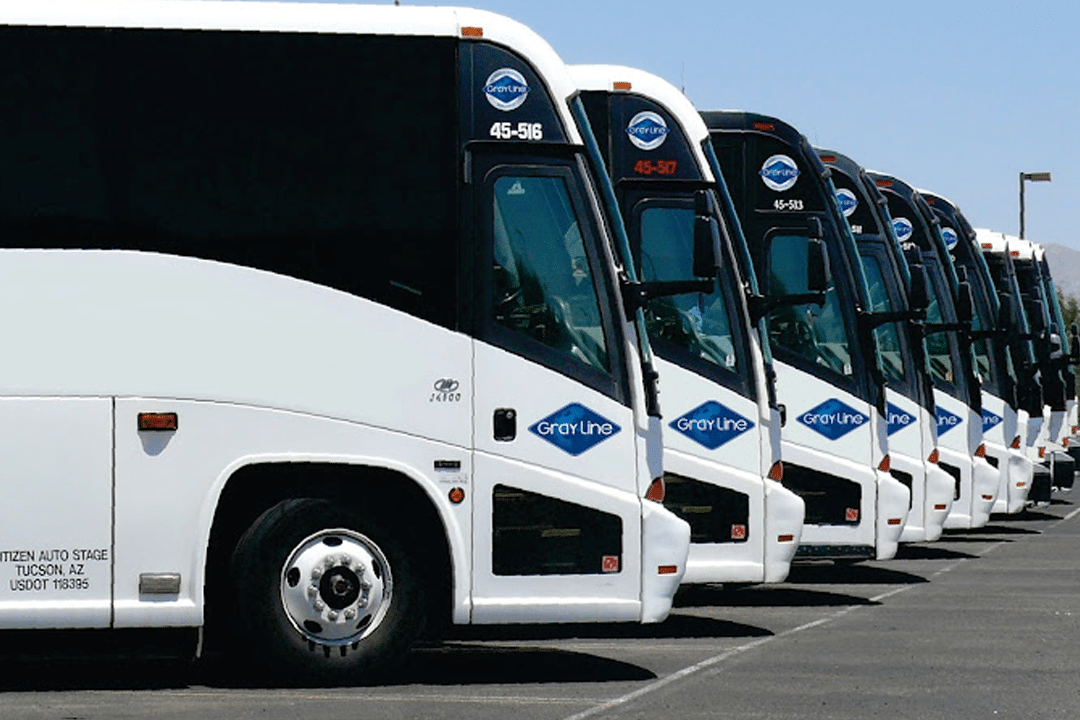 Contact Gray Line Arizona for TV and Movie Crew Bus Rentals
When the director shouts "action", don't let transport logistics be your bottleneck! Choose Gray Line Arizona Bus Rentals to ensure your production is always set for a flawless take.
Ready to roll with the best in the bus rental business? Reach out to Gray Line Arizona and let's script a success story together. That's a wrap!