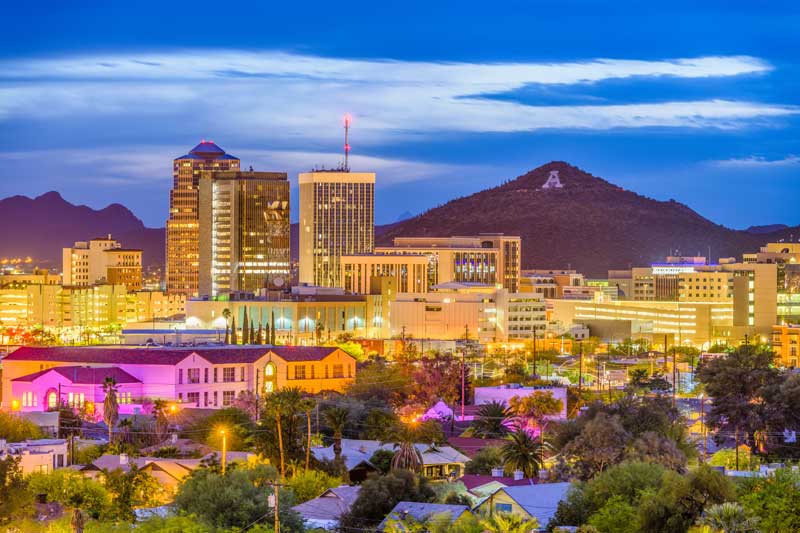 According to research by Common Sense Institute Arizona, the state's sports and tourism industry is worth 13.7 billion. With its iconic landmarks, breathtaking landscapes, and stunning natural habitats, Arizona has something special to offer everyone.
Tucson is the ideal starting point for all travelers. Continue reading to discover some must-see Tucson, Arizona attractions that will transform an ordinary trip into an extraordinary experience.
Discovering Arizona
Arizona is renowned for its rich history, artistic influence, and natural wonders. The nation's sunniest state attracts visitors year-round and boasts more tourist destinations than many states combined. This makes it one of the world's greatest places to experience.
From outdoor adventures to leisurely road trips and cultural immersion, visiting Arizona will leave you inspired and eager to discover more of the "Grand Canyon State"!
The Best Tucson, Arizona Attractions
With so many places in Arizona, deciding where to begin can be challenging. Tucson is certain to meet and exceed all your expectations. Continue reading to learn more about Tucson's top attractions:
Town of Tombstone
An hour's drive southeast of Tucson is the historic town of Tombstone. Made famous by classic Westerns and notorious gunslingers, there are also museums, mining towns, and even a random ghost town!
Enjoy an underground walk of Good Enough Mine, a haunted evening tour of the Birdcage Theater, and a history lesson of the legendary OK Corral. You can't go wrong with a Tombstone adventure!
Picacho Peak State Park
Just a 40-minute drive from the Tucson area, the 1500-foot view from Picacho Peak State Park is phenomenal any time of the day. It's also the ideal spot to enjoy a Sonoran Desert sunset.
The terrain provides hikers with scenic and challenging excursions. As you ascend the trails to the peak, you can take in the breathtaking sunset over a sea of wildflowers.
Destination Spas
A well-deserved day at the spa is the best way to unwind after a fun-filled adventure. Travelers can enjoy the ultimate relaxation experience in Tucson. The city features two of the most acclaimed spa destinations worldwide.
Choose from the award-winning Miravel Arizona or Canyon Ranch, which offers luxurious, personalized services that will leave you feeling revitalized.
Pima Air and Space Museum
The Pima Air and Space Museum is one of the world's largest aerospace museums. The property spans 150 acres and includes more than 250,000 square feet of exhibit space. Visitors are given a glimpse into aviation history and 400 unique aircraft.
Mount Lemmon
Mount Lemmon's 9,159-foot peak is situated along the 27-mile Sky Islands Scenic Byway. This year-round destination offers a stunning view of the Santa Catalina Range and Coronado National Forest. You can also enjoy stargazing from the observation deck at Mount Lemmon SkyCenter.
Adventure Awaits
There is no end to what you can experience in Arizona. The first step to a memorable journey begins in Tucson.
Our passion is enlightening travelers to the best of Tucson, Arizona attractions. Contact us and discover why going to Arizona will be the best adventure you will ever take!