Need a charter bus for your next event in South Tucson? Gray Line Bus Rentals has the largest, newest fleet in Arizona. First of all, in the transportation industry, we use the word "charter" instead of "rent", probably because all of our vehicles come equipped with a certified and well-trained driver who knows exactly where he or she is going!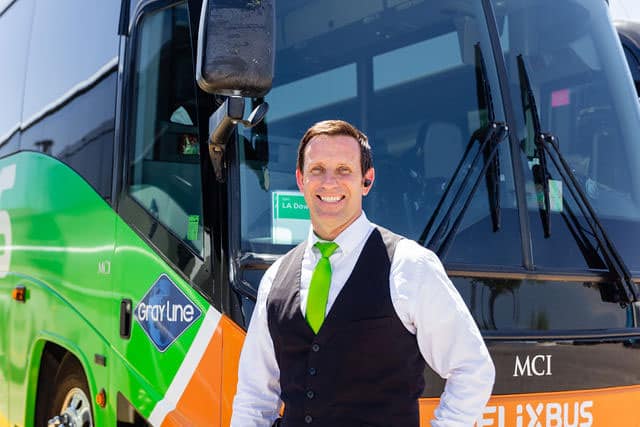 Benefits Of Chartering A Bus
Chartering a bus offers numerous benefits for group travelers, starting with cost-effectiveness. With the cost of the bus divided among the passengers, it can be a much more affordable option compared to other forms of group transportation.
In addition to being cost-effective, chartering a bus also offers greater flexibility in terms of scheduling and routes. But it's not just about cost and flexibility - charter buses are also designed with passenger comfort and safety in mind. With spacious seating, air conditioning, and onboard restrooms, your group can enjoy a comfortable journey from start to finish. And with professional drivers who prioritize passenger safety and high safety standards, you can have peace of mind knowing you're in good hands.
Finally, chartering a bus is also an environmentally friendly option that can help reduce your carbon footprint and impact on the environment.
Overall, chartering a bus is the perfect solution for group travel needs. With cost-effectiveness, flexibility, comfort, safety, and environmental benefits, it's easy to see why more and more groups are choosing to travel by bus. Contact us today to learn more about how we can help make your group trip a success!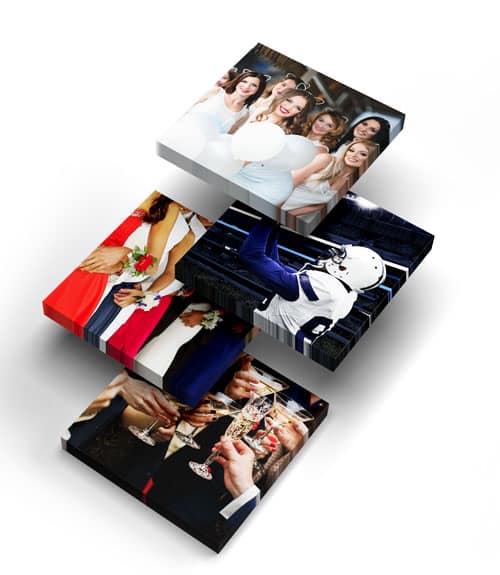 Why Choose Gray Line Bus Rentals
Locally Owned & Operated Since 1916
5-Star Google Customer Reviews
All Drivers Are Background Checked With Clean Records
Largest Newest Fleet In Arizona
3rd Generation Family Owned Business
Experienced, Friendly Local Tour Guides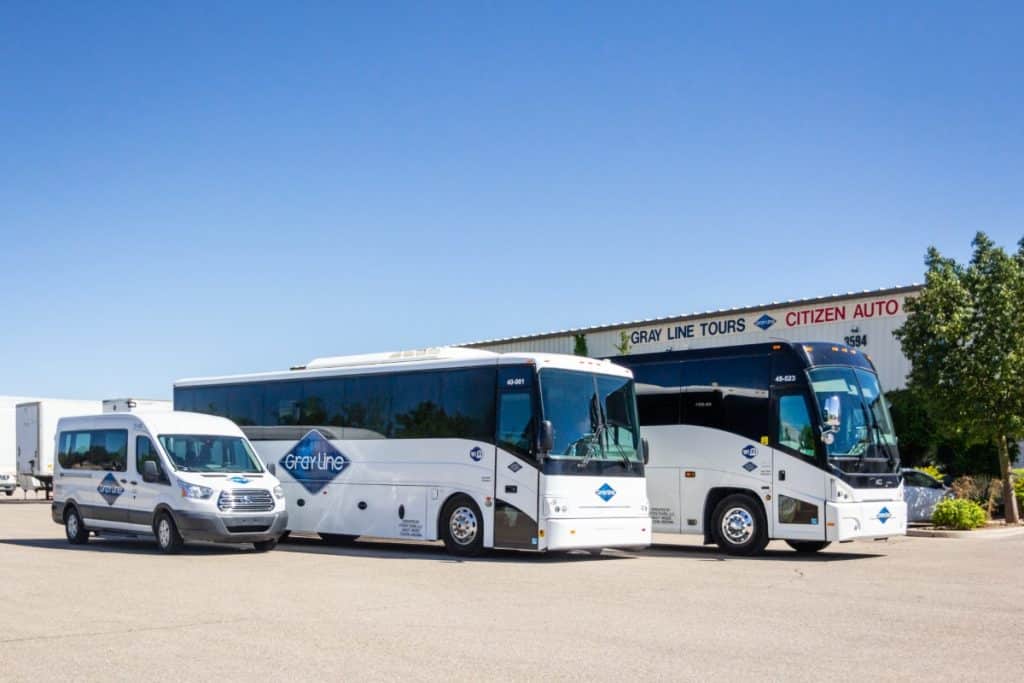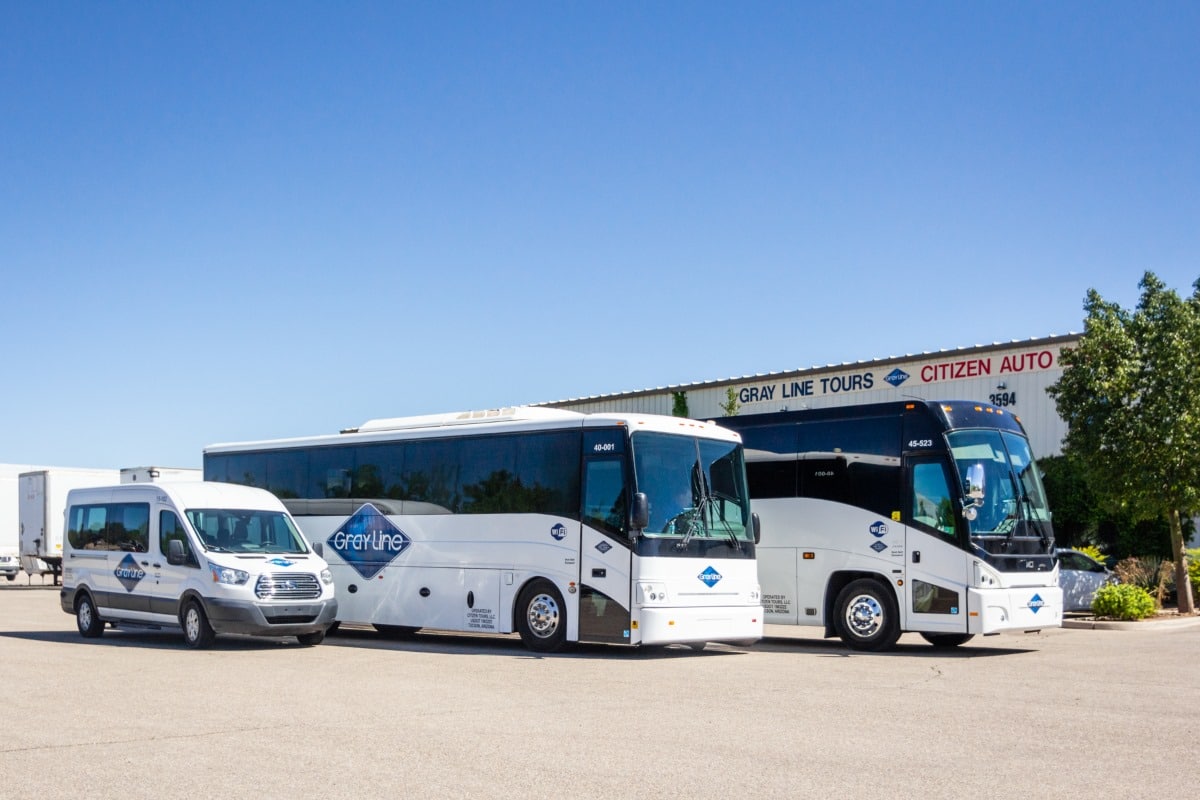 Charter Services For Corporate Events
One of our areas of expertise, we specialize in providing high-end transportation for seminars, work parties, and other corporate events.
We work in close contact with you to design a custom itinerary that meets your needs so we can give you a tailored experience whether you're looking for a full-day excursion or a quick trip around town. We offer all amenities for your guests from comfortable seating, state-of-the-art audio and video systems, and climate control to anything else you can think of.
From the moment you contact us to the end of your event our team will work tirelessly to ensure that every detail is handled. At Gray Line, we know that planning a corporate event can be a delicate matter, so we make it our main goal to provide you with the peace of mind you need to relax and enjoy your event to the fullest.
You can trust our more than 107 years of experience in the field. So why wait? Contact Gray Line Arizona to learn more about our bus tour services and start planning your next corporate event with ease!

South Tucson Charter Services For Conventions
If you're planning a convention in Arizona and need reliable and professional ground transportation, our company has got you covered. Transportation services for conventions of all sizes and making sure your attendees arrive at their destinations on time and in style is our job.
Our fleet of vehicles includes vans, mini-coaches, motorcoaches, and even school buses for the budget conscious all equipped with modern amenities and maintained to the highest standards. Our experts navigate the city's traffic with ease, ensuring that your attendees reach their destinations safely and comfortably.
Organizing a convention can be a daunting process, so leave it to our professionals to create a custom transportation plan tailored to your specific needs by working with you during every stage of the planning stage. We can arrange airport transfers for your attendees, shuttle services between hotels and convention centers, and even private tours to local attractions.
Gray Line takes pride in delivering the highest level of service to our clients over the past 106 years. Delivering an unforgettable impression on your attendees is a vital part of the job, and we are here to transform every aspect of their transportation experience into a seamless and stress-free process for you.
In addition to transportation services, we also offer professional tour services for convention attendees who want to explore Arizona's rich history and natural beauty. Our expert guides can take your group on tours to local landmarks, national parks, and other attractions, providing an unforgettable experience for your attendees.
Contact us today to learn more about our ground transportation and tour services for conventions in Arizona, and let us help you make your event a success!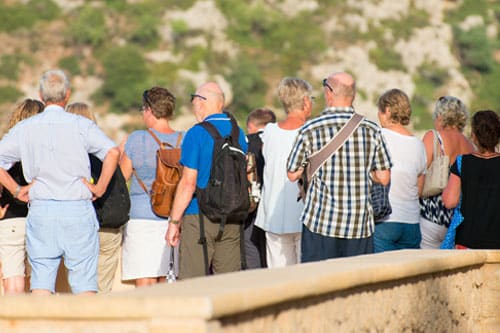 The Right Charter Bus Company
Selecting the appropriate charter bus company is a significant determinant when planning a tour. Here are some suggestions to aid you in making the right choice:
Firstly, ascertain that the company has a decent safety record and regularly maintains and inspects its buses.
Secondly, scrutinize online reviews and request references from other clients who have used the company.
Thirdly, opt for a company that has expertise in providing tours that are similar to the one you are planning, ensuring that they are familiar with the best routes, destinations, and amenities to offer.
Fourthly, consider which amenities are crucial to you and your groups, such as WiFi, restrooms, and comfortable seats, and ensure that the company can provide them.
Fifthly, compare prices from different companies.
Lastly, confirm that the company has availability for the dates and times you need and that they can accommodate your group's size.
By taking into account these factors, you can choose the right charter bus company for your tour, ensuring a secure and enjoyable experience for all.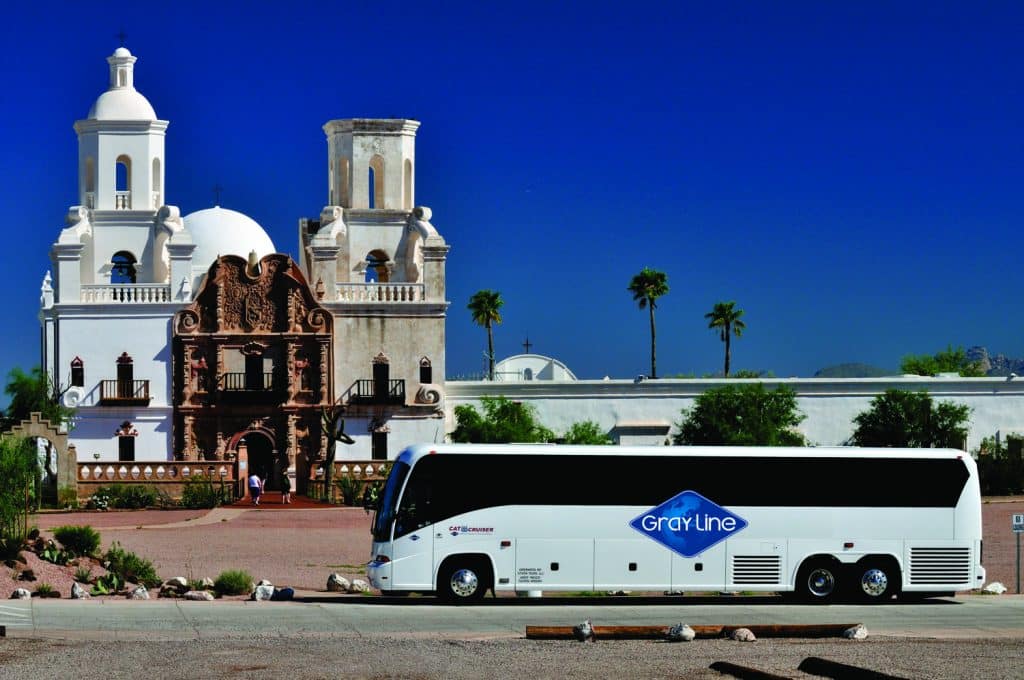 Meet Gray Line Bus Rentals
We have a long history of private charter bus rentals and group tours across Arizona and the Southwest!  We specialize in large event bus rentals and group transportation for all occasions. One can rack up an impressive client list in 107 years! Serving the Wahak Hotrontk, Arizona, 85634 area, we offer a broad range of charter bus services. Whatever the size of your group, we have the right motor coaches and charter buses for you. From corporate events to school trips our experienced and friendly drivers will get you to your destination on time. Give us a call today at 520-622-8811 to get a customized quote for your private bus rentals with Gray Line Arizona. Let's start planning your trip!