Need a charter bus for your next event in Topawa? Gray Line Bus Rentals has the largest, newest fleet in Arizona. First of all, in the transportation industry, we use the word "charter" instead of "rent", probably because all of our vehicles come equipped with a certified and well-trained driver who knows exactly where he or she is going!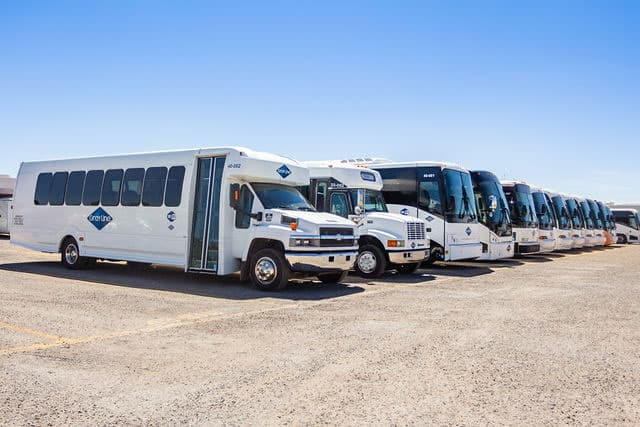 Charter Service Benefits: Comfort, Safety & Cost
If you're looking for a luxurious and comfortable way to travel with your group, look no further than chartering a bus. There are a plethora of benefits and here are some of them.
Comfort: With plush seating, ample legroom, and fewer restrictions on baggage you won't have to stress yourself before and during your trip
Safety: Having a professional driver behind the wheel who knows all the road and all its details, you don't have to worry about anything except the photos that you will take.
Cost-Effective: By splitting the costs between all members of the group your luxurious tour can come at a very affordable price.
In conclusion, you can safely feel like you're traveling in style with all your loved ones and you can do all this for a reasonable price.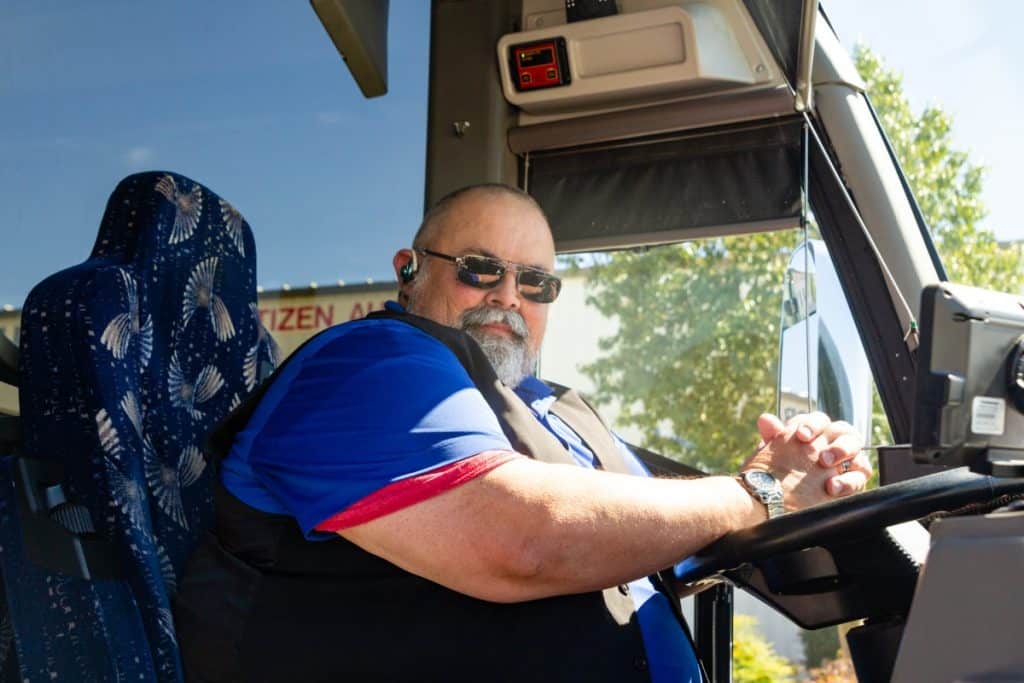 Why Choose Gray Line Bus Rentals
Locally Owned & Operated Since 1916
5-Star Google Customer Reviews
All Drivers Are Background Checked With Clean Records
Largest Newest Fleet In Arizona
3rd Generation Family Owned Business
Experienced, Friendly Local Tour Guides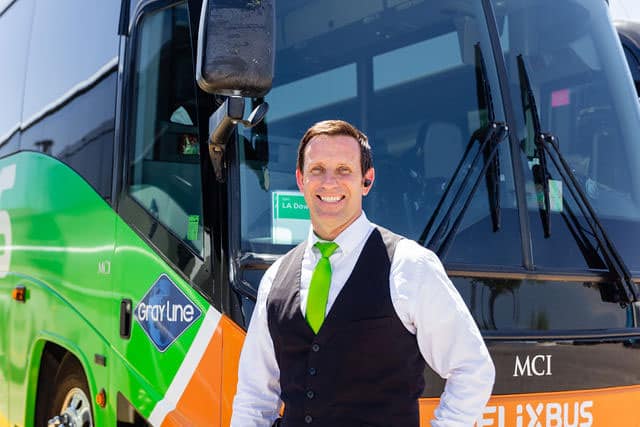 Topawa Charter Services For Sporting Events
At Gray Line, we organize bus tours for professional, college, and high school sports events with our focus on ensuring you and your group arrive at the game on time and without any stress. For die-hard fans or people just looking to experience the excitement of a live sporting event, we have the perfect transportation for you.
Benefits Of Chartering A Bus For Sporting Events in Arizona
Cost-Effective
One of the most significant advantages of renting a bus for sporting events in Arizona is the cost savings. If you're traveling with a large group, the cost of individual transportation can quickly add up. Renting a bus allows you to split the cost among your group, making it an affordable option for everyone.
Additionally, you can avoid the expenses of gas, parking, and other travel-related costs. With a charter bus, all of these expenses are included in the rental price, giving you a fixed and predictable cost for your transportation needs.
Comfortable Travel
Another benefit of chartering a bus for sporting events in Arizona is the comfort factor. Unlike cramped cars or public transportation, a bus provides ample space for you and your group to stretch out and relax during the ride.
Charter buses come equipped with comfortable seating, climate control, and entertainment options like TVs and sound systems. Plus, you'll have the convenience of onboard restrooms and plenty of storage space for your belongings.
Convenient Tailgating
Tailgating is a popular pre-game activity for sports fans, but it can be challenging to coordinate when traveling in separate cars. With a rented bus, you can easily organize a group tailgate party and enjoy the fun and camaraderie of the pre-game festivities.
A charter bus provides ample space for grilling, games, and socializing, making it an ideal choice for tailgating. Plus, you can avoid the hassle of transporting all your gear by storing it onboard the bus.
Avoid Traffic and Parking
One of the most significant challenges of attending a sporting event in Arizona is navigating the traffic and finding parking. This can be especially challenging if you're unfamiliar with the area or attending a large event.
When you rent a bus for your group, you can avoid the stress of traffic and parking by leaving the driving to the professionals. Experienced bus drivers know the best routes and parking options, ensuring that you arrive at the game on time and stress-free.
Safe and Reliable
Renting a bus for sporting events in Arizona is not only convenient, but it's also a safe and reliable option. Charter bus companies adhere to strict safety regulations, ensuring that you and your group are in good hands.
Additionally, charter buses are well-maintained and regularly serviced, minimizing the risk of breakdowns or delays. With a rented bus, you can rest assured that you'll arrive at your destination safely and on time.
Eco-Friendly Travel
Finally, chartering a bus for sporting events in Arizona is an eco-friendly travel option. By renting a bus instead of traveling in separate cars, you can reduce your carbon footprint and contribute to a greener planet.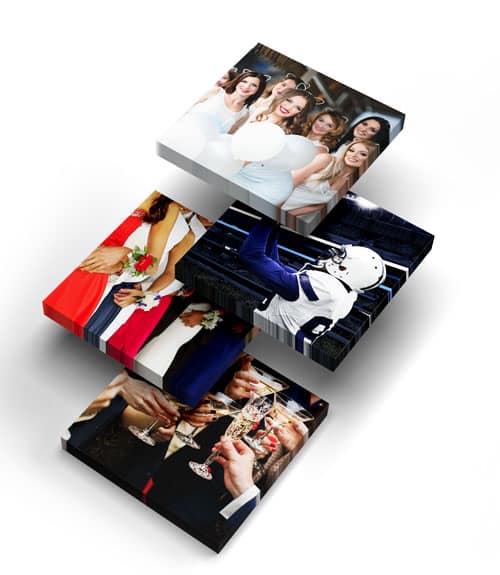 Topawa Charter Services For Weddings
At Gray Line, we know that a wedding is one of the most important days in someone's life and we aim to make that day go smoothly for you by creating an easy and stylish way of transporting your wedding guests. We offer transportation for weddings of all sizes, from intimate ceremonies to grand celebrations.
From the moment your guests step onto our buses, they'll be treated to a first-class experience. From seating to climate control and modern audio and video systems, we make sure that every detail is taken care of.
At Gray Line, we believe that transportation shouldn't be an afterthought on your wedding day. Instead, it should be an integral part of the day's festivities which adds to the entire experience for you and your precious guests. That's why we offer a range of customized options to guarantee that your wedding day transportation is perfect in every way.
Whether you're looking to transport your guests from their hotels to the wedding venue or shuttle them between different wedding-related events, we got every aspect of your plan covered. Our seasoned drivers and guides will work with you to design a custom transportation plan that matches all your needs so that your guests arrive at your wedding feeling relaxed and ready to celebrate.
Our fleet of luxurious buses is designed to make your wedding transportation as elegant and sophisticated as your special day. Get in touch with us to start preparations today!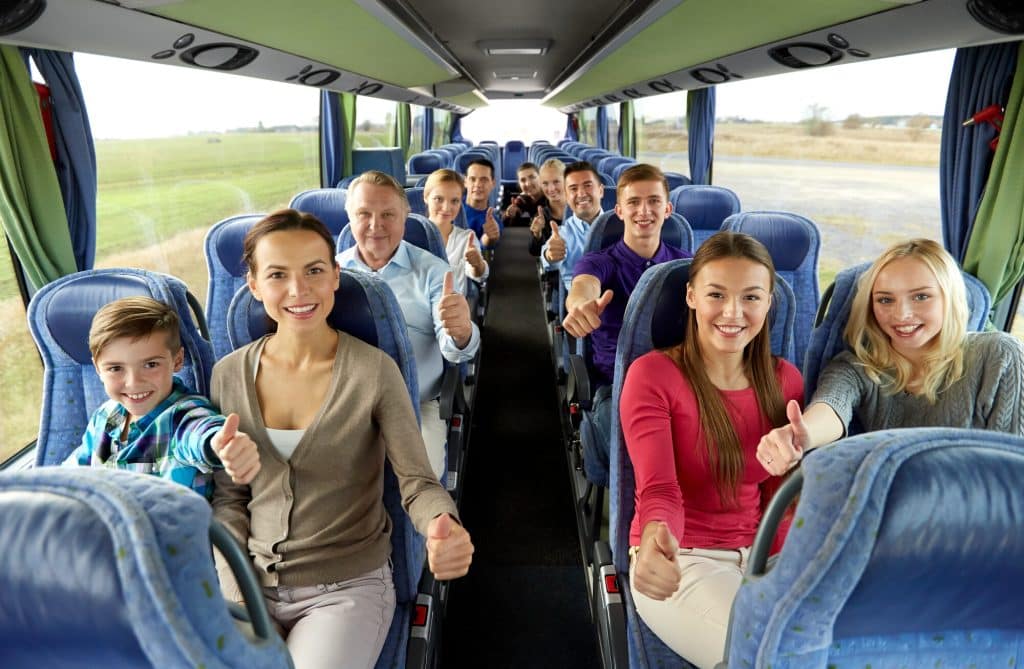 The Right Charter Bus Company
Selecting the appropriate charter bus company is a significant determinant when planning a tour. Here are some suggestions to aid you in making the right choice:
Firstly, ascertain that the company has a decent safety record and regularly maintains and inspects its buses.
Secondly, scrutinize online reviews and request references from other clients who have used the company.
Thirdly, opt for a company that has expertise in providing tours that are similar to the one you are planning, ensuring that they are familiar with the best routes, destinations, and amenities to offer.
Fourthly, consider which amenities are crucial to you and your groups, such as WiFi, restrooms, and comfortable seats, and ensure that the company can provide them.
Fifthly, compare prices from different companies.
Lastly, confirm that the company has availability for the dates and times you need and that they can accommodate your group's size.
By taking into account these factors, you can choose the right charter bus company for your tour, ensuring a secure and enjoyable experience for all.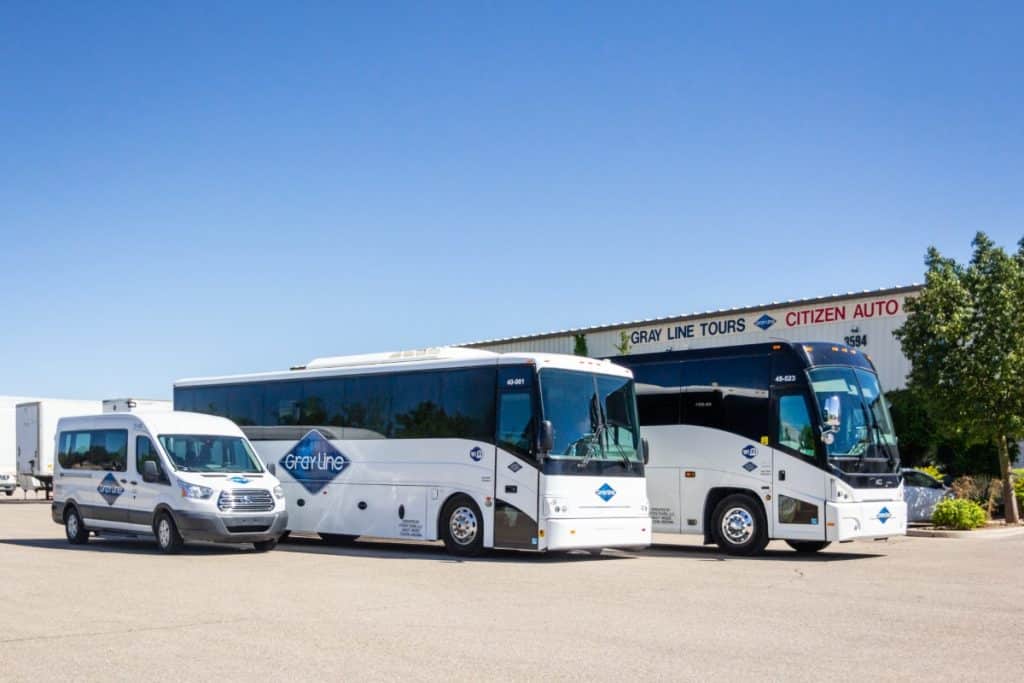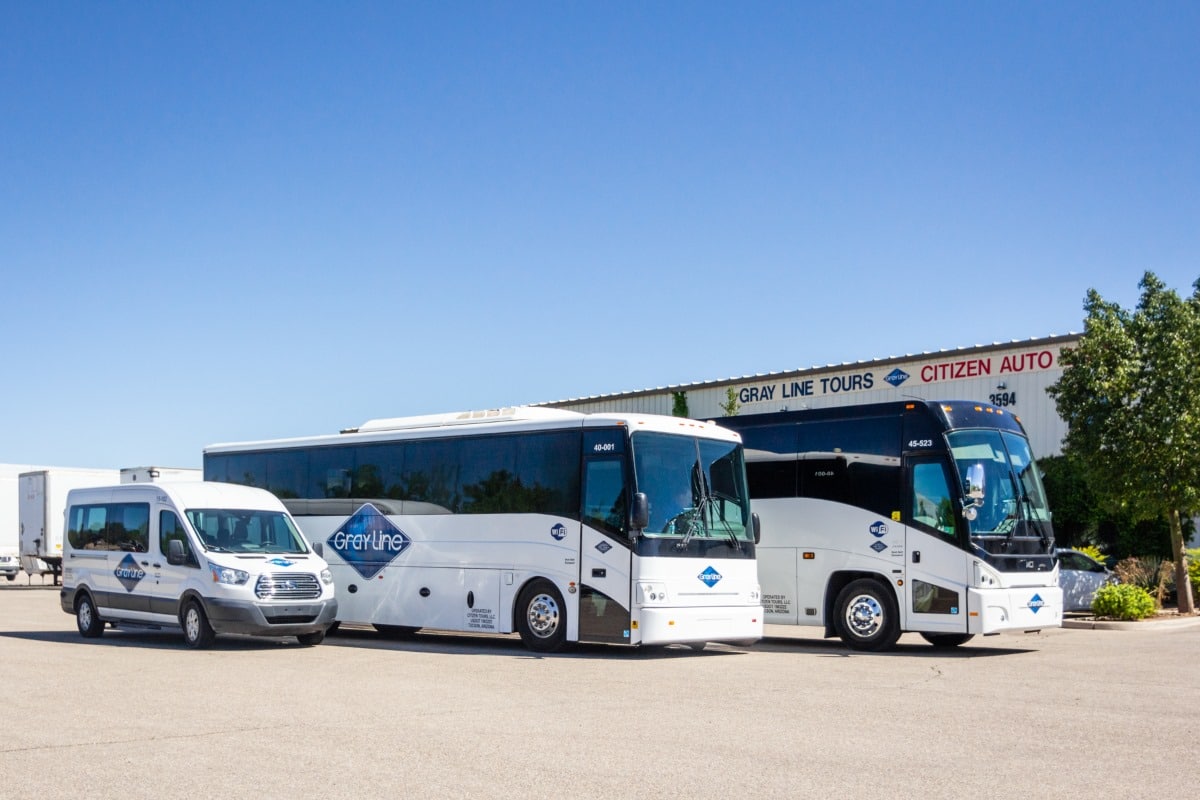 Meet Gray Line Bus Rentals
We have a long history of charter and tour service, largely focusing on the southwest. We specialize in large events and have operated numerous mine employee shuttles, major regional events, and multiple corporate services. One can rack up an impressive client list in 107 years! Servicing the Topawa area, we offer a broad range of charter services. Whatever the size of your group, we have the right vehicle: luxury, state-of-the-art motor-coaches, vans, and mini-coaches (even school buses)!